Welcome to VIKOH
VIKOH, A global manufacturer and supplier of Government tested and approved tamper-evident security labels used for HARD and SOFT surfaces ranging from IT Equipment to Envelopes.
The adhesive labels are unique, customised and approved for use across the following Government and Commercial industry sectors:
Government Departments & Agencies

Army, Navy & Air Force
Customs & Border Protection
Police

Security
Access/ID Control
Asset Management
Aerospace
Nuclear
Telecommunications
Locksmith
Gaming
Legal
Collectibles & Memorabilia
Safe Storage
Manufacturing
Medical
Pharmaceutical
Food etc.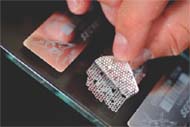 SubScribe™ is the trademark for Vikoh's tamper evident security products  - manufactured in Australia since 1998 and amongst the most respected products in the security market. They are produced with surface & sub-surface print.